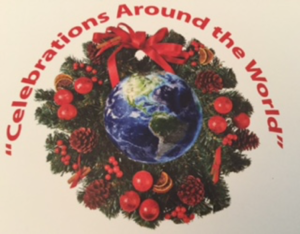 A few weeks, I had the opportunity to "travel" without leaving the Cape. The Garden Club of Hyannis presented their annual Holiday Showcase. This year's theme was "Celebrations Around the World."
They transformed the Cultural Center of Cape Cod www.cultural-center.org into a visual treat of floral exhibits and décor that reflected the culture and holiday celebrations of the chosen countries.
It was a truly impressive and creative display of local talent. I will share some of the countries with you. Credits for some photos goes to Robert Nash, the Executive Director of the Cultural Center. Descriptions of the rooms are paraphrased from the program.
"She has the Whole World in her Hands"
Attendees were greeted by this lady holding the world in her hands. She was dressed in aspidistra leaves. orchids, roses, succulents and moss.
Christmas Eve in England
Some members created the dining room of Downton Abbey, imagining many lavish parties being held there during the Christmas season.
A Williamsburg Christmas
Pineapples, natural decorations, white lights, candles and old musical instruments predict a joyful holiday celebration. The custom-crafted fireplace and homespun table setting reflect the warm hospitality of the space
New Year's Eve in Paris
The entry to this room had an illuminated Eiffel Tower and an old map of Paris. The setting is an intimate dinner in the library of a Paris apartment. A large clock inspired by the one at Musee d'Orsay counts down the hours to midnight. An explosion of white flowers on the dining table and mantel add a touch of sparkling elegance.
A Chinese New Year Celebration
A spectacular 21-ft festival dragon dances to the delight of an elegant woman in a portrait imported from China. No white flowers are used since they represent death in the Chinese culture.
Tea in a Dutch Greenhouse
This was a lovely room with the wall covered with a removable mural of a Dutch scene.
Please look at the mirror. The creator of this room was quick to tell me I could duplicate it by breaking up cups and saucers and gluing them to an ordinary mirror frame!
Scottish Christmas
Of note in this area was the handmade twig arbor and the family portrait of a noble Scotsman. It was filled with tartans, reds and greens everywhere.
 
My time at this event was a lovely "travel" experience thanks to the talented members of The Garden Club of Hyannis. I hope you also enjoyed it.