Our motto: The Enjoyment of the Trip Begins with the Planning
Our 15 year relationship with Northside Travel has been nothing but positive. They have and continue to understand our interests, objectives, pocketbooks, and physical abilities.  Whether recommending scheduled tours or designing private trips, the "can do attitude" has resulted in our complete trust and confidence in our trip planning.   Travel arrangements have always been made with attention to detail, with advocacy, with concern for our welfare and all the while having fun!

— Susan and Malcolm, Wayland, MA
Let us be your "guide" in this planning process to begin the fun of traveling. We will work closely with you to put all the pieces of your travel puzzle together with confidence that you have the right fit for the vacation of your dreams. Then, embark on your trip knowing that you have all the details organized as well as having an advocate back home to assist you if need be.
We are there for you… before, during and after you return.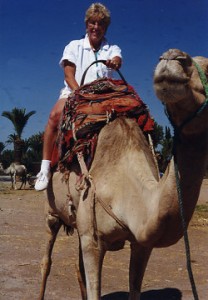 MARY JO
Without knowing it at the time, I think I began my career in travel when I took my first trip to Europe. I boarded a train from Rochester, NY, bound for the city and then a plane to Lisbon, Portugal to visit my cousin. I was taking a grand tour of Europe with her family. Oh yes, I was 13 years old, on crutches with 22 stitches in my foot and traveling alone!
As I read that journal today it is filled with the usual comments about the sights, but much more about the cute waiters at our hotels! I brought back a bracelet from Portugal which also began my tradition of the type of souvenir I would bring back from each of my trips… a lovely piece of local jewelry. I toured Europe in 1967 and then again in 1972… hence, the beginning of my long love affair with the countries of Europe and travel in general.
After earning a Masters in Education, and three children later, I began an official travel career in 1981 when I started learning the business. I worked part time at a travel agency for the next 10 years as well as teaching travel courses and hosting a local travel show on C3TV, The Travel Exchange. I opened my own travel agency, Northside Travel, in 1991.
Many years later and many more countries checked off my must see list, my love of travel, my passion for exploration, my devotion to meeting new people in their home environment and my search for the ultimate piece of local jewelry are still the foundation of my life.
-Mary Jo Gregory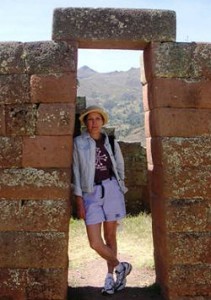 BEA
If I could be a crusader for one particular type of travel it would be "family travel". It doesn't have to be far or expensive, just make it a priority and be sure to go. To those who say you should travel with your children before they get older and don't want to go with you, I say they'll always want to go with you. Our very best family trip and my most favorite trip thus far was an African Safari with both my parents and my children.
One of things about my career as a travel agent that I find so appealing is the understanding that the longer I do it (18 years now) the better I am at it. Sure, I have my preferences but it's your trip that I'm planning and that's the fun and challenging part! When you depart on your trip, you can be sure that I'm wondering how you are doing. When you return home, you won't find anyone more interested than I in hearing about it.
-Bea Goldstein
EVIE
Evie Grady has been in the travel industry for thirty-two years. She has traveled extensively in Europe, the Caribbean, and Central and South America.
She enjoys tall-ship sailing and eco-adventure travel. Her love for Central America has grown since spending extended vacations in Granada, Nicaragua.
A travel highlight: She spent three weeks in China and Tibet, where a high priest lama presided over her betrothal ceremony at the Jokhang Temple in Lhasa.
SIDNEY
Sidney Harvey has been in travel for over half a century, having begun as a leader of Youth Hostel tours to Europe in the 1950's. She grew up partly in Europe, living mostly in France and England, so her knowledge of these areas is vast. While living in California for most of her adult life, she owned and managed several travel agencies.
Her expertise is in organizing and leading tours, although she loves sending her clients to any part of the world. Since Sidney has been to almost every country you can name, she is always looking for a new exotic place to go. Last year, she managed to get to Bhutan, a country that invites fewer than 7,000 visitors per year
PEG
Peg's travel career began 34 years ago in Connecticut where she managed an agency in Wilton. She moved to the Cape full time in 1995 and worked at Bradshaw Travel before coming to Northside Travel in 2003. Peg's first love is planning foreign independent itineraries or FITs as they are known in the travel business. She's an expert in luxury cruises and has sailed on many of the top names such as Silverseas, Cunard and Oceania. Her current favorite destination is South Africa or like most real travelers it's where ever she's been last.