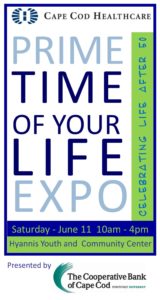 Join us at the Prime Time of Your Life Expo
Saturday, June 11 from 10am – 4pm
Hyannis Youth & Community Center
We are excited to announce that we will be sponsoring and participating in the Cape Cod Healthcare @Prime Time of Your Life Expo – Celebrating life after 50! – taking place Saturday June 11th from 10am to 4pm at the Hyannis Youth and Community Center. There are going to be lots of great exhibitors just like us, plus interesting demonstrations and seminars, door prizes, and Olympic figure skating silver medalist Paul Wylie speaking! Admission is free if you pre-register by June 9th or $5 at the door.   Details at: www.primetimecapecodexpo.com
TRAVEL SEMINARS
Mary Jo will be presenting two workshops at the Expo.We hope you'll attend!
The Secret Benefits of Travel
There is more to travel than just seeing the sights. Mary Jo will show you how to focus on the hidden treasures so that your travels will become a life enriching experience.
Discover River Cruising
Become an educated consumer and learn that you have choices when planning a river cruise experience. Discover the similarities and differences of seven river cruise companies so that you are confident the choice you make is the right one for your travel style.