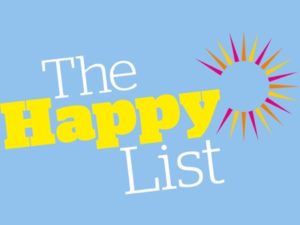 In watching a recent broadcast of CBS This Morning they talked about Norway being listed as the happiest country for 2017. This of course peaked my interest so off I went on a search to find out more about this list.
Here is what I found from CNN.comCredit goes to the tiny country of Bhutan for shining a light on happiness. Its prime minister first proposed a World Happiness Day to the United Nations in 2011 and launched an international focus on happiness. The U.N. General Assembly declared March 20 as World Happiness Day in 2012, recognizing "happiness and well-being as universal goals and aspirations in the lives of human beings around the world."
The first of five World Happiness Reports was first published in April 2012 in conjunction with the U.N. High Level Meeting on happiness and well-being. Since 2012, many governments and governmental organizations have made well-being or happiness a priority.
Here are the top 10:
1. Norway. This Scandinavian country filled with hikers, fjord-explorers and coffee drinkers vaulted from fourth place to first place to become the world's happiest country. The Lofoten Islands, shown here, are well known for their jagged mountains and red cabins.
2. Denmark — This country of very happy people has won the title of world's happiest country three of the five times the report has been issued. These sailing boats at Nyhavn, a 17th Century waterfront canal and entertainment district in Copenhagen, are enough to make any visitor happy.
3. Iceland — There is adventure to be had outside of the capital city of Reykjavik, whether it's trying to spot the Northern Lights or visit any of the smaller towns around this tiny country. No matter how cold one gets outside, most towns have a hot, steaming tub or pool from which soakers can watch the snow fall.
4. Switzerland — While Switzerland dropped from second to fourth place this year, the competition between the top four countries was very close.
5. Finland — Famous for its winter sports, Finland is also breathtakingly beautiful in summer, as seen here in Lakeland. The country retained its fifth-place spot on this year's World Happiness Report list.
6. Netherlands — The Dutch country famous for Van Gogh, tulips and canals — marked by these illuminated bridges at Kaisersgracht and Leidsegracht in Amsterdam — moved up one spot to sixth place.
7. Canada — While Canada dropped one spot to seventh place this year, it still has much to celebrate on its 150th year as a nation. And much credit goes to Prince Edward Island, where a small group of elected officials gathered in 1864 to discuss joining the region's independent provinces to create one nation.
8. New Zealand — Despite its remote location, this island nation has become a popular destination. Sailing and water sports are popular with the locals and visitors.
9. Australia — This island nation had to share ninth place with Sweden this year. Despite environmental threats to the survival of the Great Barrier Reef, Australia's World Heritage Site remains a significant draw for domestic and international tourists alike.
9./10 Sweden — The World Happiness Report for 2017 ranked countries on seven main factors that support happiness: caring, freedom, generosity, good governance, honesty, health and income. Sweden came in ninth place, tying with Australia.
Do watch this interesting You Tube video if you remain curious. By the way USA ranked 14.