Only one is left!
As a child, I was always mesmerized by the Ancient Wonders of the World. They sounded exotic, mysterious and so far away from Rochester, New York!  Despite this fascination, I couldn't remember them all as I wrote this postcard.  Can you?
Why Seven Wonders?
For the Ancient Greeks, the number seven was special as it represented the number of known planets, plus the sun and the moon. The Greek conquests in Egypt and Persia opened the road for Greek travelers, who took note of the wonderful things they saw.
The earliest reference to the Seven Wonders was by the Greek historian Herodotus. Later versions came out that served as sort of guidebooks for travelers.
There was no official list of the Wonders (some included the Ishtar Gate and the walls of Babylonia), but it is Philo of Byzantium's list, made in 225 BC, that we use the most.
Here is the list:
Colossus of Rhodes, Greece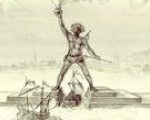 Built in 4th century B.C., this is a 100-foot statue that honored the Greek sun god Helios.
Hanging Gardens of Babylon, Iraq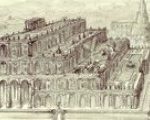 There are some experts who say they never existed!  Legend goes that Nebuchadnezzar II, the king of the Babylonians, built the gardens as a consolation for his wife, Queen Amytis, who missed the mountains and greenery of her homeland.
Lighthouse of Alexandria, Egypt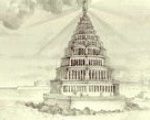 Built in 3rd century B.C., the first lighthouse mirrors were used to reflect sunlight out to the sea. The purpose was to guide the ships into the port. Modern lighthouses are used more to warn the ships to stay away from islands, reefs and promontories.
Mausoleum of Halicarnassus, Turkey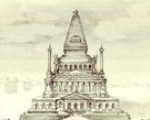 Built in 4th century B.C. this was a tomb for King Mausolus. I had to google him!  The tomb was so magnificent the word Mausoleum (named after Mausolus) was invented and is now used to describe an above-ground tomb.
Statue of Zeus, Greece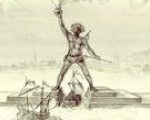 Built in the 5th century B.C., this 40-foot statue honored the king of the Greek gods.
Temple of Artemis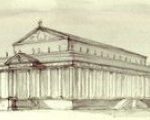 Built in the 6th century B.C. in Ephesus, this temple was built to honor Artemis, the Greek goddess of the hunt.
And the only one that remains today is the Pyramids of Giza, the picture shown above.  Built in approximately 2,600 B.C., these are massive tombs of Egyptian pharaohs.  A disclaimer:  While the pyramids still look exotic in the picture, they are now close to a new highway and town! Visit them with the right expectation.
Map of the Seven Wonders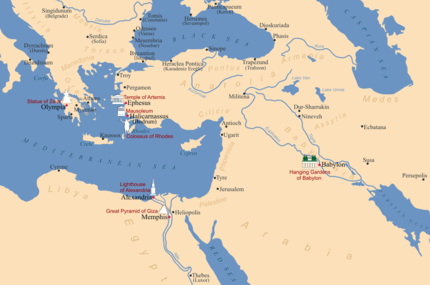 Above you can see the locations of the Seven Wonders of the Ancient World. Surprised to see only one is in Greece?
If you could see just one of these of these, which one would it be? Watching the video may help you with this choice.