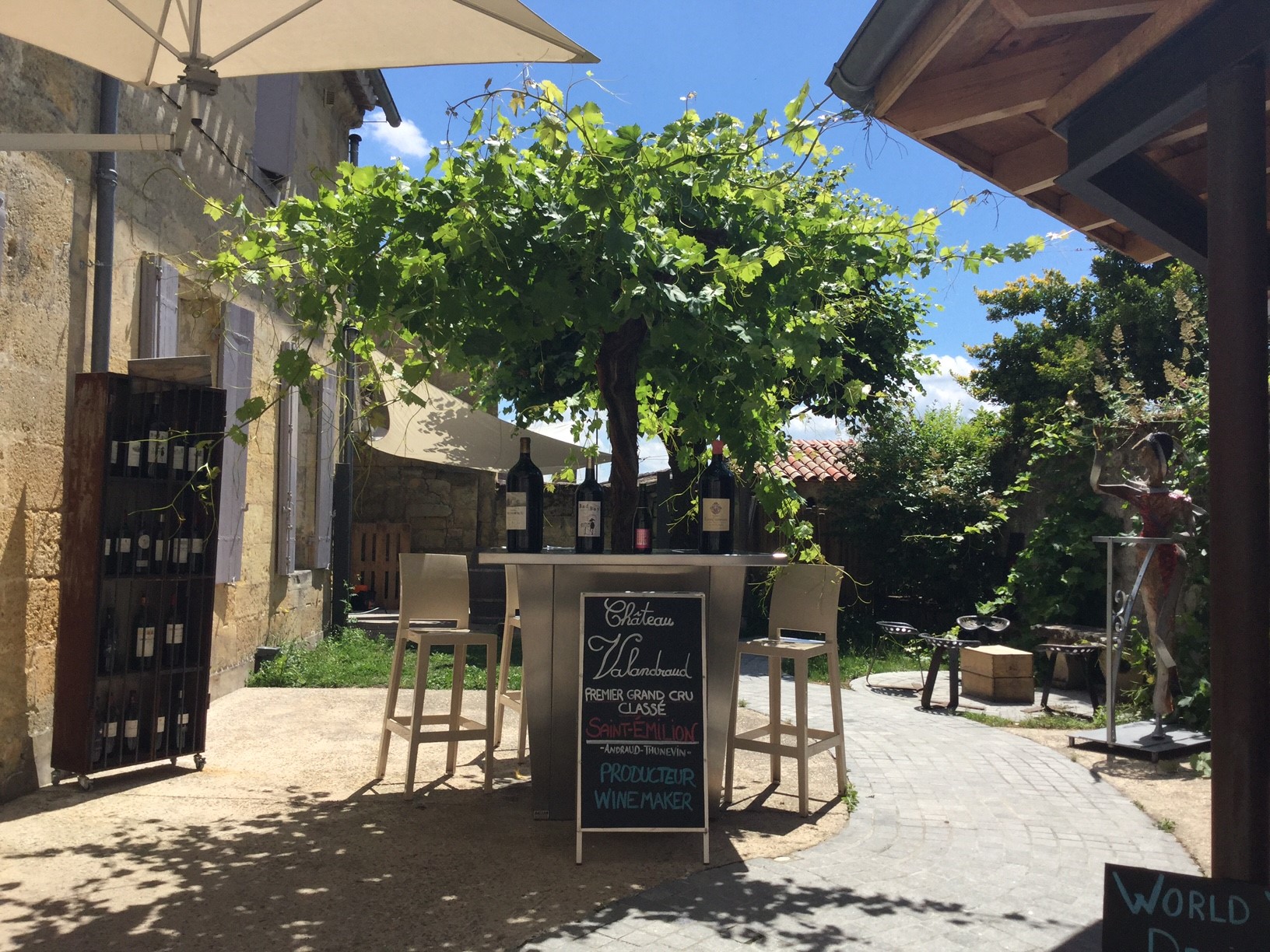 Bordeaux River Cruise Review Part Two
La Cite du Vin in Bordeaux. www.laciteduvin.com
Look carefully. The building is supposed to represent the swirls of wine in a wine glass. The museum opened last year and gets rave reviews. It had one of the best and most extensive interactive displays I have ever seen.  So much so that it requires more hours than I was able to spend. You will be immersed in the world of wine. A wine tasting (One glass only as I found out after having a second!)  on the glassed top level is included in the ticket price. Latitude 20, as shown in the picture below, is a room filled with an enormous collection of wine from around the world. There is also a Restaurant Le 7 that offers magnificent panoramic views of Bordeaux and the 'Port de la Lune'.  Reservations are recommended.
Favorite Excursion:
The highlight excursion on my recent river cruise in Bordeaux was a tour and lunch at Chateau de Cazeneuve.  The Chateau was the property of King Henri IV of France and the Queen Margot. It is beautifully furnished with period furniture and offers a glimpse into their life during their time of residence.
We enjoyed a tour offered by the resident heirs and then a lunch that was devoted to teaching us that Sauternes, while sweet, can be successfully paired with a main course rather than just with dessert. We drank this delicious wine with a smoked salmon course and a "family" recipe for what I will interpret as stewed chicken. I'm a new devotee to this pairing.
Market Day in Blaye:  Why do the fruits and vegetables always look so much better? 
Wine images were everywhere as we drove through the countryside.
Pastries:    Dunes are cream filled puffs that were inspired by the Great Dune of Pyla, located 60 km from Bordeaux in the Arcachon Bay area and happens to be the tallest sand dune in Europe, measuring 500 meter in width, 3 km in length and rising to a height of 107 meter above sea level. They were yummy!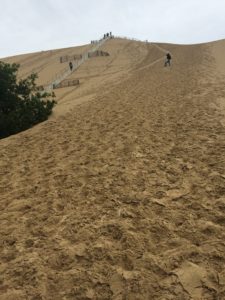 Chocolate! Tres, Tres Bien
Caneles:
French Tart, www.frenchtarte.com has this to say: "Canelés de Bordeaux are magical French bakery confections, little fluted cakes with a rich rum and vanilla interior enclosed by a thin caramelized shell. This brilliant recipe was developed a long ago by an anonymous Bordeaux cook, whose innovation has been subjected to 300 years of refinements. Glossy and dark brown almost black at first sight, bittersweet at first bite, the crunchy burnt sugar canelé-shell makes an exquisite contrast to the smooth, sweet filling, fragrant with vanilla and rum. These little cakes have recently gained cachet after years of neglect, to the extent that they may one day rival the popularity of crème brûlée in the category of caramelized French desserts." Tiego, our head chef, shared his recipe for his version of this famous "cake".
Favorite Village: St. Emilion:

We had an afternoon to enjoy a local lunch in my favorite village of the cruise.
Of course, we enjoyed this paired with a lovely crisp Chablis.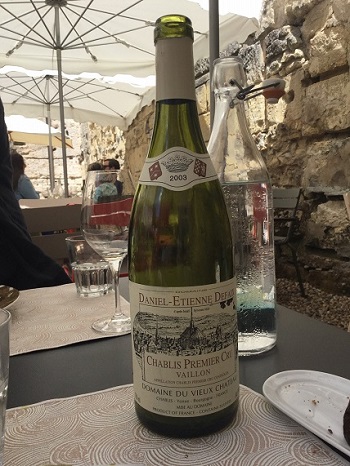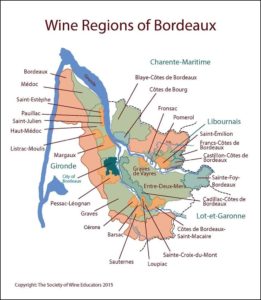 The first vines in St. Emilion were planted by the Romans back in the 2nd century!  The town is named after a monk named Emilion who settled in a hermitage he helped carve into rock in the 8th century. He remains a very popular local resident. It was Emilion's fellow monks who started the commercial wine production in the area around the 10th century.   The vineyards of St. Emilion and the surrounding area are so historically important that the area was the first wine growing region on UNESCO's list of World Heritage sights.  Here is an example of one of the wine gardens that can be found in this charming village.
Other than wine, St. Emilion has another amazing claim to fame–macarons.   Fabrique de Macarons, the store we chose to visit, still uses the original recipe introduced by the Ursuline nuns in 1620. The store has been run by the same family for three generations until it was recently sold.  Competition to produce the best macaron is intense, and the recipes are closely guarded, with only a select few knowing all the ingredients.  There are about a half dozen macaron stores in the St. Emilion area, each vying to be regarded as the best.
A truly local site are the fishing shacks along the river. The nets are lowered from these shacks one weekend and raised the next!  Little baby shrimps are the most popular catch.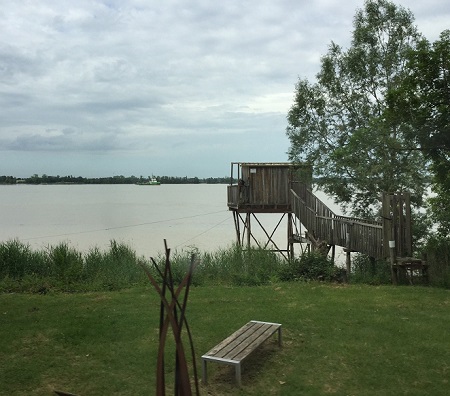 I will end with the Wine Aroma Wheel and admit to all that I have no palette. I envy those who can smell the flavors of apricot, artichoke or almond to name a few. Now, does this discourage me from enjoying a glass of wine…. Never!