Ready…Set…Travel
As I prepared for my next trip, a wine cruise in the Bordeaux region of France, I realized what fun it is to actually be prepared!  To be able to relax on the night before I leave. To be able to cross the bridge knowing all will go well at home. To be able to leisurely reread my daily itinerary and get the goosebumps of excitement. To be able to have accomplished my pre-trip checklist.
Now this does not happen overnight as I am sure you already know. It takes preparation and a lot of pre-departure thought! I often think of the "bibles" I would prepare for my children's babysitters. Now that was work.
Here are few of my pre-trip tips:
As we all do, I plan my wardrobe around the trip itinerary. However, I will often write down my outfits in the margins of my daily itinerary. That way, I can relax each day and coordinate the mix and match ahead of time.
If there is a tipping guideline and I am unable to place the gratuities on a credit card I will place this amount in an envelope to bring with me. The last thing I want to do is to have to think about money at the end of a wonderful trip.
Luckily, I have only been pick pocketed once in all my years of traveling. I learned my lesson and now leave a photocopy of my travel credit cards (front and back) at home. My cards can then be quickly cancelled.  FYI. Some travelers like to get a dedicated credit card that has a finite amount of money loaded to the card just for their trip.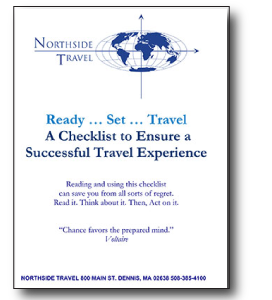 So, after many years of traveling, our team at Northside Travel has put together an overall checklist for our travelers. Look at this or print it out for your own reference.
I wish you many well prepared trips.

What country produces more than 50% of the world's cork?
In what country can the ruins of Angkor Wat be seen?
Name the largest lake between Switzerland and Italy.
Name the great African waterfalls, twice as high and twice as wide as Niagara Falls.
Name the only walled city in North America.
---
Safe travels,

and the Northside Travel Team

---