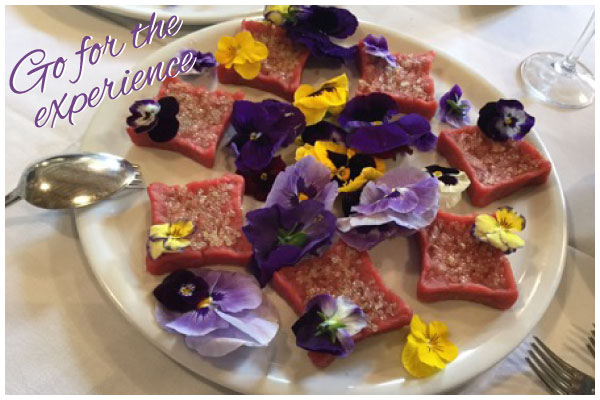 A Trip Highlight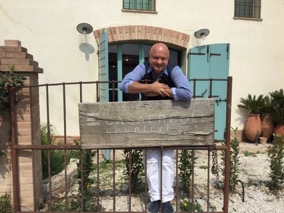 On my recent trip to the Le Marche region of Italy, I had the pleasure of spending an afternoon in the country home of Ercole Moroni, a flamboyant internationally renowned floral designer.  From the moment we met, Ercole shared with us his love of himself and his love for us.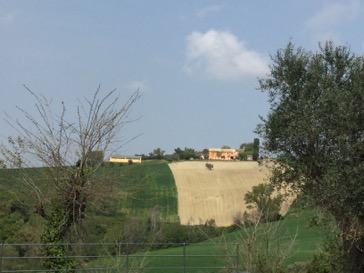 His home is situated in the rolling hills outside of the medieval town of Belvedere Ostrense and only 20 minutes away from the sea coast. A lovely setting.
Ercole rents out the full house or individual rooms to his guests who take his floral design courses. If any of you have an interest in this course, please let me know. I would go back in a heartbeat to watch you design since I would get an F!
He graciously opened his home for us to have an elegant multi course lunch with a pairing of wines for each offering.    
We began with appetizers sprinkled with edible flowers.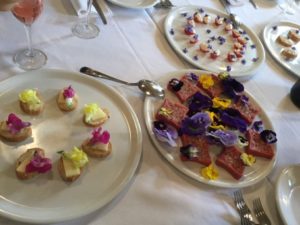 Then onto 2 pastas (not just one!), made by his mother.

Next, 2 entrée courses, one fish and one meat.

Are you full yet? The finale came with 2 desserts and grappa!

Now I will have to admit I ate it all! I am a self-proclaimed  carpe diem traveler and knew that my grilled chicken and sautéed spinach dinners would be at home waiting for me.
This 3 to4 hour authentic and truly unique experience finally came to an end with Ercole giving all of us a rose bouquet.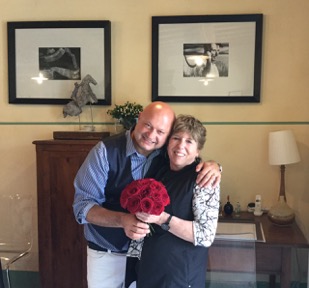 And people ask me why I like to travel to Italy!
I am going to create a trip to this region for next April. Please let me know if you would like to receive further information when the trip details are ready.
Take a moment to watch the video of my whole trip.
Arrivederci Le Marche.

Join Me in Iceland
Iceland has become a very popular destination. Windstar Cruises has a 7 night circumnavigation cruise that is very popular and sells out every year.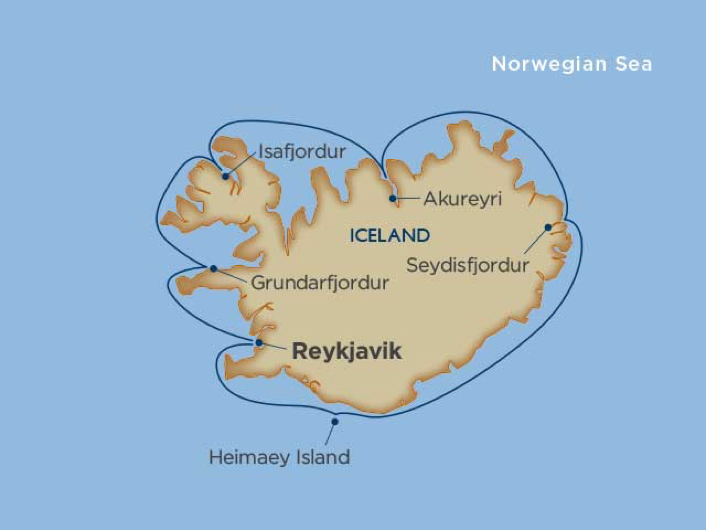 I have reserved space for the August 16th 2018 departure on the 212 passenger yacht, The Star Pride. Cruise fares start at $4066 including port charges and taxes.  Email me or call me if you would like more information at maryjo@northsidetravel.com or 508-385-4100.

Who is the famous artist born in Urbino?
What major bodies of water surround Italy?
Name 3 edible flowers.
What is the difference between tortellini and tortelloni?
What is Grappa made from?
Safe travels,

and the Northside Travel Team
Travel Trivia Answers
1. Raffaello Sanzio da Urbino, known as Raphael (1483-1520)
2
.
The Tyrrhenian Sea, Adriatic Sea, Ionian Sea and Mediterranean Sea,
3.
See if your answer is listed
4. It's a matter of size. Tortellini is the smaller version of the same pasta.
5. Grappa is made from pomace, the leftovers from the wine making process.
How did you do?