I have returned from my trip to Northern Italy fat and happy as I always am after a travel experience.  I have no problems admitting that I ate everything on my plate with great pleasure and gusto.  Travel for me is an invitation to remove myself from the daily routine to indulge in the pleasures of daily life in my destination.
As I go through the results of my 8 curiosity challenges, it will be a good overall trip review
1. Sit and observe.
I found Verona to be a charming, elegant and inviting small city that offers more than just Juliet's balcony
and the Arena. There are four public squares that are always the heart and soul of a city; the ancient arena where performance are given under the stars; pedestrian streets with shops on either side and the Adige River with historic bridges that connect the old with the new. The picture shows the Piazza delle Erbe where I sat in a café' to observe the many tourists and stylishly dressed locals. I was glad to have 4 nights in Verona.
2. Listen – Is there a unique sound?
I have two sounds that captured my attention. The first one was the sound of 
a bicycle bell in Verona.  I have seen the bicycles of Amsterdam but have not experienced them in an Italian city. The streets of Verona in the historic district are narrow and filled with walkers so this mode of transportation seems so appropriate. I heard the bell so often but was never able to capture the sound. You'll have to use your imagination as you look at this picture.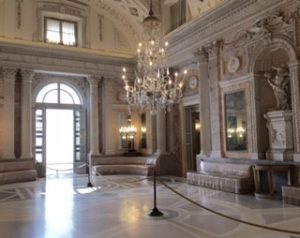 Finally, Isola Madre gave us the opportunity to walk through an exotic garden where I took this video. Can you hear the water lapping against the shore of the island?
On a side note, we had the best weather…high 70's ad sunshine during the day and 60's in the evening. September is generally a lovely time to travel. Also, if you are going to the Lake District be sure to include the lesser known Lake Orta. It is stunning.
3. Strike up a conversation. what do they love about their country?
Being in a small group I had many opportunities to be up close and personal with our guides. All were so friendly and willing to answer our questions.  They shared their daily life with us and offered their opinions on the reality of life in their country.  Bottom line, they all loved Italy as I do.
4. Ask a local for a recommendation. Take it.
I asked our guide in Verona for a dinner recommendation that turned out to be a perfect place for us one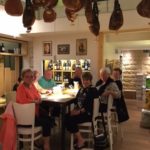 night.  Tapa Sotto is owned by a famous Italian chef, Giancarlo Perbellini. It was a welcome surprise with its contemporary décor, open kitchen and light menu offerings…. a nice contrast to the traditional Trattoria or Osteria.
5. Take a walk without a map.


This curiosity challenge has always been a part of my introduction to a new destination.  Upon arrival in Verona, Stresa and Milan I ventured out to get my bearings and program my internal GPS. I actually don't mind getting lost since it fine tunes my sense of direction.  More importantly, I love the sense of wonder I have when I come upon a beautiful sight in an out of the way location like this flower shop on a side street in Verona.
6. Try a new food.

Eating in Italy is always a treat for me since I love, love, love Italian food. My new food was a Vegetable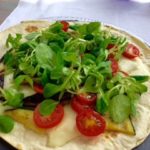 Piadina. Please notice the freshness of the greens and tomatoes.  The Italians pride themselves on using the freshest ingredients. We were in a rooftop restaurant overlooking the city of Bergamo as I enjoyed this local food. Now I will admit that I was not as brave in trying a dish from another restaurant.  The English description read:
Typical Veronese Dish( horse meatballs, Polentina (mush) with cheese and radicchio!
7. Dance with a local.
Okay, so here is my crazy story. We spent our last two days in the busy city of Milan known for its fashion,  banking as well as the 3rd largest cathedral in Italy and the honor of having one of the 10 most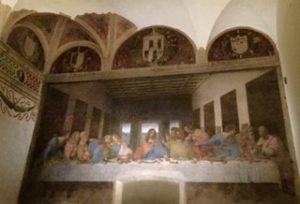 important works of art in the world, The Last Supper by Leonardo Da Vinci.  We took a taxi to the venue to view this amazing, newly restored fresco. My taxi cab driver, as he opened the door for me, had a jubilant demeanor and stance so I immediately seized the opportunity to have a dance with a local.  He was very receptive so had a fun moment and I checked off this challenge. I wish I could share a picture but it was truly spontaneous and serendipitous.
8. Find a new product in a local market (not a souvenir).


I failed this one. This was not a market type of a tour. I will take editorial rights and talk about our experience at Villa Della Torre Allegrini since I learned something new about cooking. We spent the most delightful day with Elisa and Chef Alberto in the kitchen of the villa talking the talk of food preparation followed by lunch. Not being a foodie who prepares the food but a foodie who eats the food, even I enjoyed this. entertaining day of repartee. It was a reality show at its best.
Now I must end by sharing a memorable experience for all of us. We had the pleasure of
spending the day with our guide, Patrick Carroll at the 18th century Villa Panza. Guiseppe Panza was a highly regarded collector of art and the first to introduce American Contemporary Art to Italy. We all marveled at the individual pieces that came alive with our new understanding after the explanation from Patrick. We left this day having a better appreciation for this genre. This pool of water is by Meg Webster and is located in the outer courtyard. Can you see the reflection of the pillars?
Hopefully you now have a good idea of the flavor of Northern Italy.  I am planning a women's trip next May to the Emilia-Bologna region.  See the details below. I would love to have you join me on another thoughtfully prepared custom itinerary.