Now it is time to talk about how I decided to experience Cuba. I was offered a travel industry rate from Fathom, a new brand small cruise line with a mission to have travelers make real connections with the destination and other like-minded travelers. They want you to Travel Deep.
The Adonia carries 700 passengers and is beautifully decorated making it warm and welcoming. It is a sister ship to the Oceania Nautica and the Azamara Quest which I have been on so it felt like coming home.
The ship had Curiosity Boxes placed around the public areas where you would learn something new.
The shop was filled with brands that make a difference.
What makes my experience a "voyage" and not a cruise? The most important reason is the addition of Impact Guides. This group of 12 vibrant and personable young activity coordinators all had impressive backgrounds of service oriented experience with most of them having been in the Peace Corps.
Here are some of the activities that were offered on our sea days: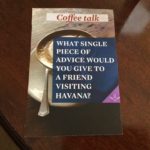 Coffee Conversations: You would meet for a cup of coffee and 2 of the impact guides lead you in some conversation about your time in Cuba. The tables in the lounge had starter questions just in case. I learned a lot more about Cuba from this activity.
One evening a Cuban Band was the entertainment. There were no Broadway shows.
They did have Bingo but with a twist! It was called Havana Architecture Bingo. I can't remember the last time I played Bingo on a ship, but succumb this time because I was drawn to learning more about the architecture of Havana.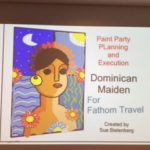 Wine and Paint was so popular that they had to offer it twice. It was so much fun despite my known reality of having no innate artistic talent. Here is a picture of what we drew, and do stop by the office if you are curious to see what my lady looks like. My grandson called it a weird looking lady!
A Cuban History lecture was very popular and very well done.
Storytelling: The last evening was devoted to a storytelling session where you would share a story of impact from your "voyage" to Cuba. It was fun listening to all the different experiences everyone had and it made me want to have a do over.
I think you get the idea by now that Fathom is all about connecting their travelers to the destination and to each other. The ship goes for one week to the Dominican Republic and then one week to Cuba. I must mention that in the Dominican Republic all the land activities are service oriented. You can actually build a water filtration system for a family; lay a cement floor for a family; teach children English or participate in many other helpful and impactful activities. Due to how new this concept is there are now some incredible fares to the Dominican Republic, so if you are interested do call the office (508) 385-4100.
I was on the 4th cruise to Cuba and I have confidence that the Fathom team will continue to add more unusual activities that will enhance their mission of connection and impact. With this in mind, I have group space reserved for a:
Whether you want to join me on the trip or just come to learn all about the Cuba of today, this will be educational for all.  Make a reservation by sending your check, payable to Northside Travel, to PO Box 2059, Dennis, MA 02638