Tah-shi-de-leg from Tibet
First, I loved Tibet but very much disliked the altitude of 12,000 ft. I felt the effects of it immediately and began drinking tons of water which never really solved the problem. I did accomplish all the sightseeing but went to bed the first day at 5pm and stayed there until the next morning! I actually missed a meal which is hard to do on this expedition.
During our stay we visited 3 types of monuments: a palace, a temple and a monastery.
We started at the Jokhang Temple , the spiritual center of Tibet and said to be the oldest Buddhist monument in Tibet. Since pictures were not allowed inside, here is a picture of the upper courtyard.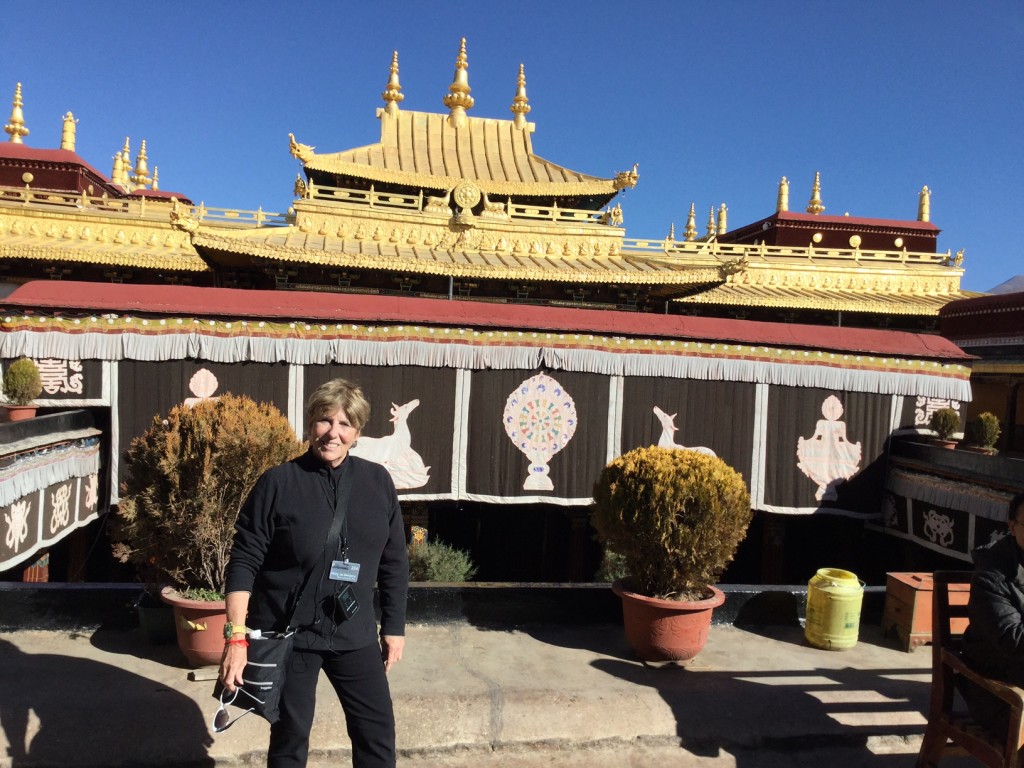 Pilgrims come to prostrate themselves up to 10,000 times. They will arrive early in the morning and spend the day counting the number of prostrations for that day on their prayer beads and return again the next day to continue the count.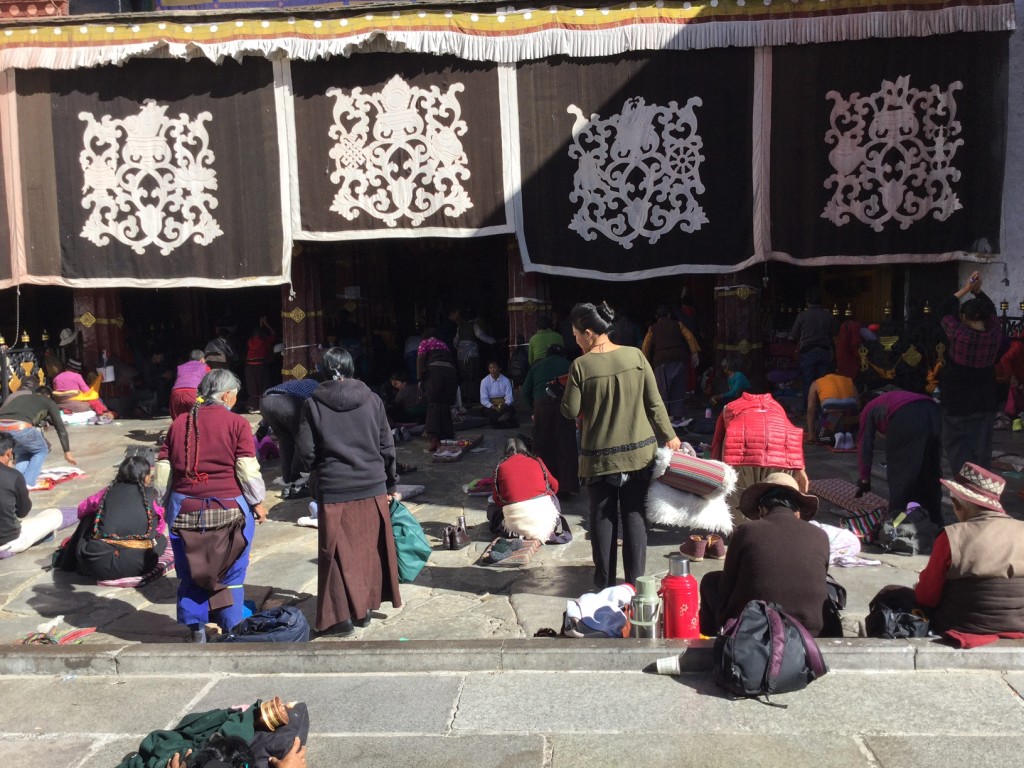 Next was the big challenge of climbing the 360 steps up to the top of the Potala Palace,this fortress-palace of the Dalai Lama. Dalai means "ocean" because of the vastness of his wisdom and compassion and Lama means master. I made it to the top despite huffing and puffing the whole way. It remains unoccupied after the Dalai went into exile in 1959.Most homes use 3 main colors: white for compassion, red for and black for protectin. The inside was a maze of rooms filled with hundreds of golden Budda's. It was worth the climb!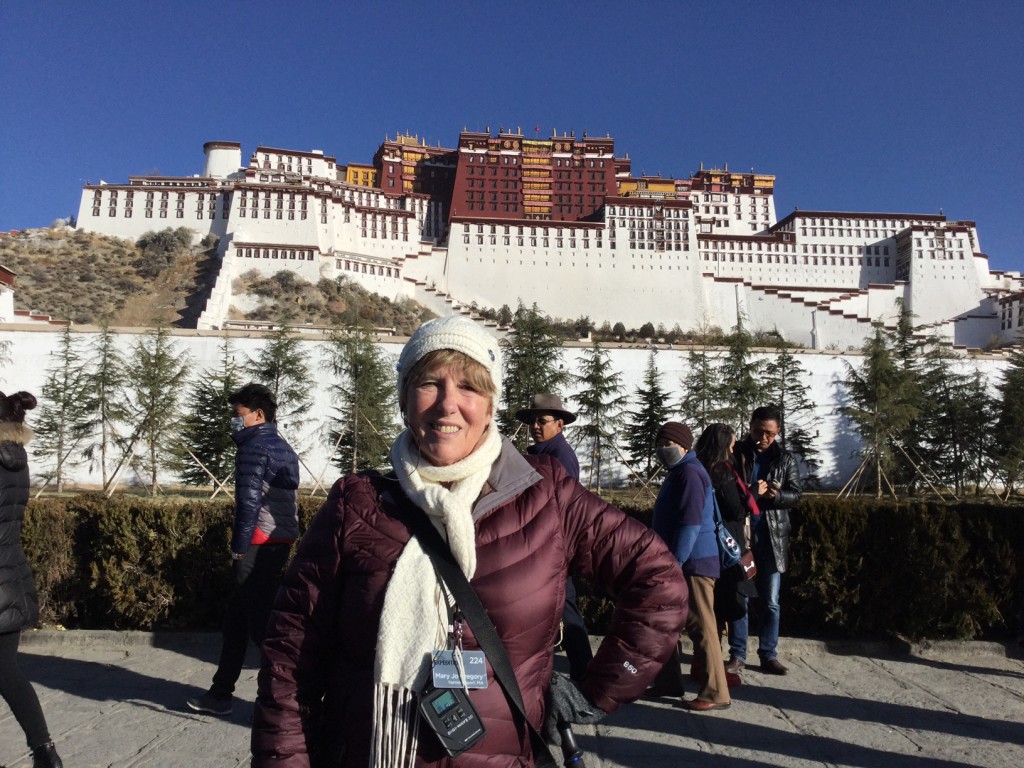 The Sera Monastery, the home to approximately 500 monks today(down from 4,000 – 5,000) was fascinating as we watched the monks debate Tibetan philosophy with each other in preparation for their final exams. They clap with their hands up if the answer to the question is right; hands down if wrong.The video will give you a good idea of this experience.
We ended up the evening with a "wedding " ceremony and celebration dinner for a couple traveling with us which had been arranged by National Geographic. They had both been widowed and met and fell in love this past January. It was a beautiful evening for all.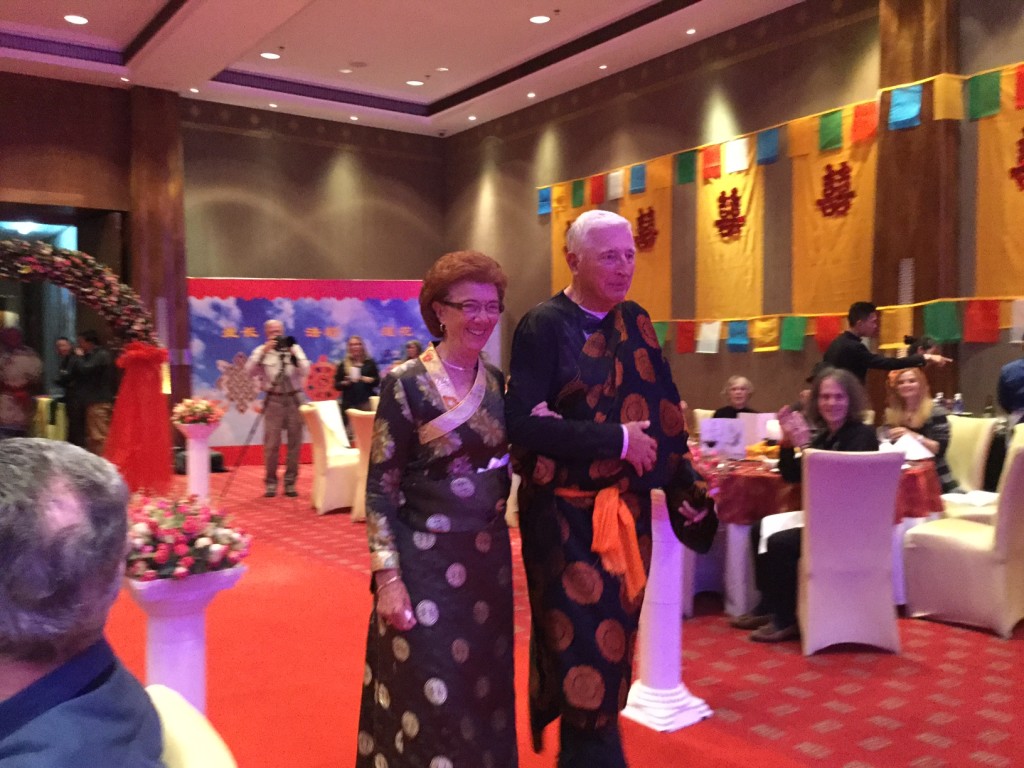 We were pleased to have visited Tibet now since we all are of the opinion that the culture of Tibet is slowly being taken away from the people. Enjoy this poem from a Tibetan Chronicle of the 9th century.
TIBET
This center of heaven.
This core of earth.
This heart of the earth.
Fenced around by snowy mountains.
The head land  of all rivers
Where the peaks are high and the land is pure
Where men are born as sages and heros.
And act according to good laws.