Hello from Cape Cod.
Expedition, a journey or voyage undertaken by a group of people with a particular purpose. There were 75 in our group who became fellow explorers as we traveled around the world together. Here are some adjectives that might describe the trip: world class, phenomenal, spectacular, exceptional,  momentous, etc. I'm sure you get the idea that it was truly a trip of a life time.
Let me start with National Geographic and TCS who worked together to make this trip happen. Understanding what it takes behind the scenes to create, organize and manage a trip of this magnitude, I will applaud all those involved in providing us with  a seemless, worry free and most importantly a luxurious experience. I need to note here that wherever we went, National Geographic had advance teams at each destination making sure that all arrangements were in order. That's impressive.
The Jet became our mother ship and we all looked forward to coming back home to receive a warm welcome from the crew. The picture below shows them dressing up for us after our stay in India. Ask and you will receive was thier mantra.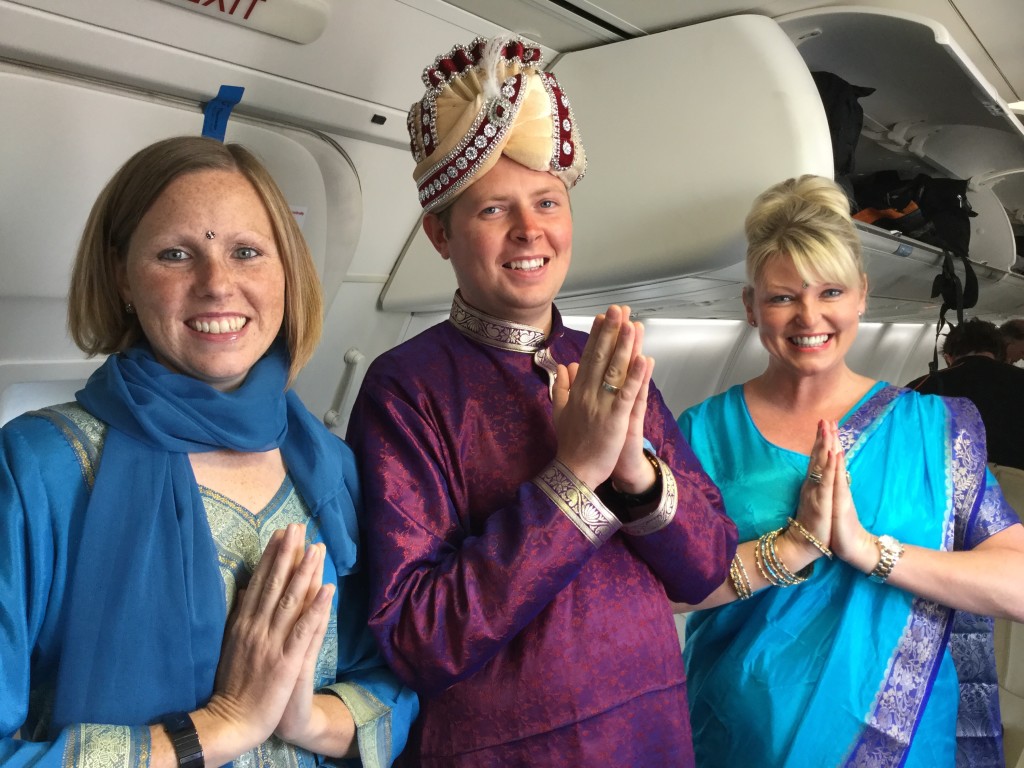 Chef Chris, who by the way, has cooked for Pope John Paul II and Princess Diana, kept us looking forward to yet again another 3 course gourmet meal with a choice of entrees. While the crew would sometimes join us for a cocktail reception in the evening, Chef Chris was always in the catering location of the airport or at a local hotel prepping our next meals. One memorable meal was our hamburgers after being in China. We had all been talking prior to boarding about wanting one and then to our delight they were on the menu for the day.  I will share the picture below of Chef Chris despite the picture of me that shows the reality of the last day of the trip… chubbier cheeks and flat hair! Thank you Chris. I loved all your meals.  
   Now I will share pictures of the three courses to show you the quality of the meals and presentation and the reason for my overindulging! Oh I forgot to mention the spirits and wines were flowing.Watch Full Movie Online Streaming Online and Download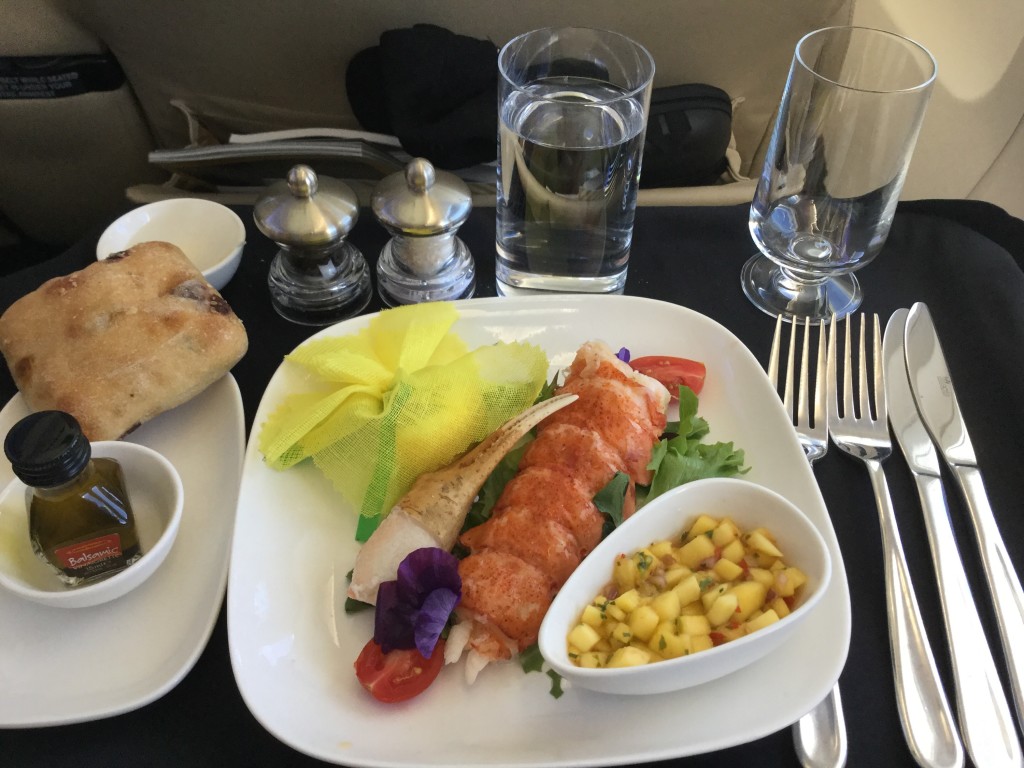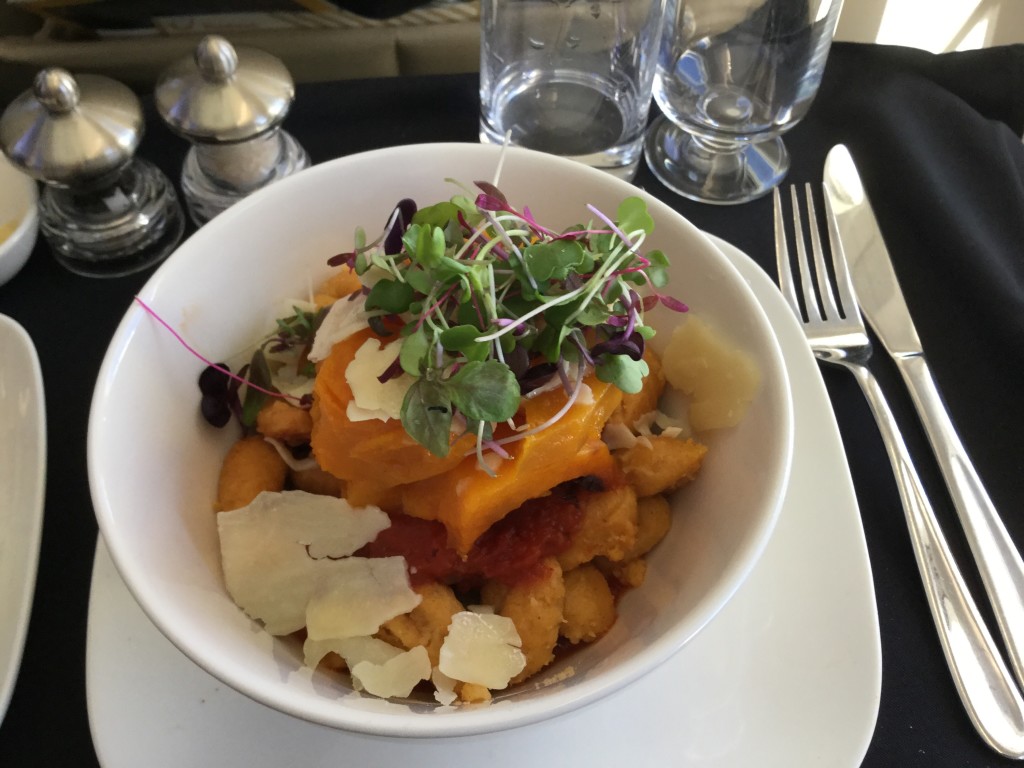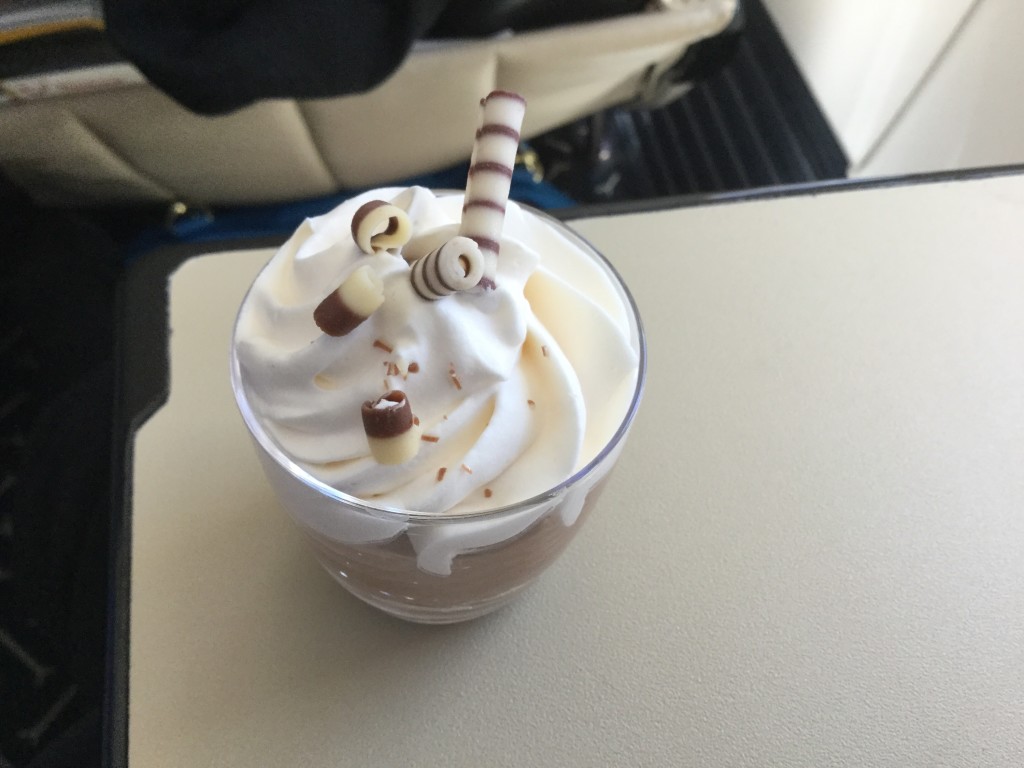 The next group to mention were the lecturers hired by National Geographic to join us and provide an intellectually stimulating commentary as we flew to each destination. The Ipads we were given as a gift  were pre- programmed with slide shows as we listened to the live lectures on board from our Bose headsets that we got to take home with us.  I had imagined that I would be bored on the long flights so I rented,prior to the trip, 5 movies and downloaded lots of music and books. The reality… I watched 2 movies and never actually finished any book. Now a lot of that was due to my blogging on board after each destination but when that task was done I was then engaged in the lectures to prep me for the next one. We moved at such a fast pace that after awhile I felt like I was on a tread mill. Now I did this to myself by committing to the blog but I have no regrets. It was a great way to document this trip and have you share in this incredible experience or possibly bring back memories you may have from a destination.
The hotels we stayed in were 5 star or the best the destination location had to offer. Upon arrival, we would receive a welcome gift and a pouch of local currency valued at $10 per person. While they were all memorable for different reasons, I will share my favorires. In Cuzco we were welcomed to the hotel in the chapel of this former monastery.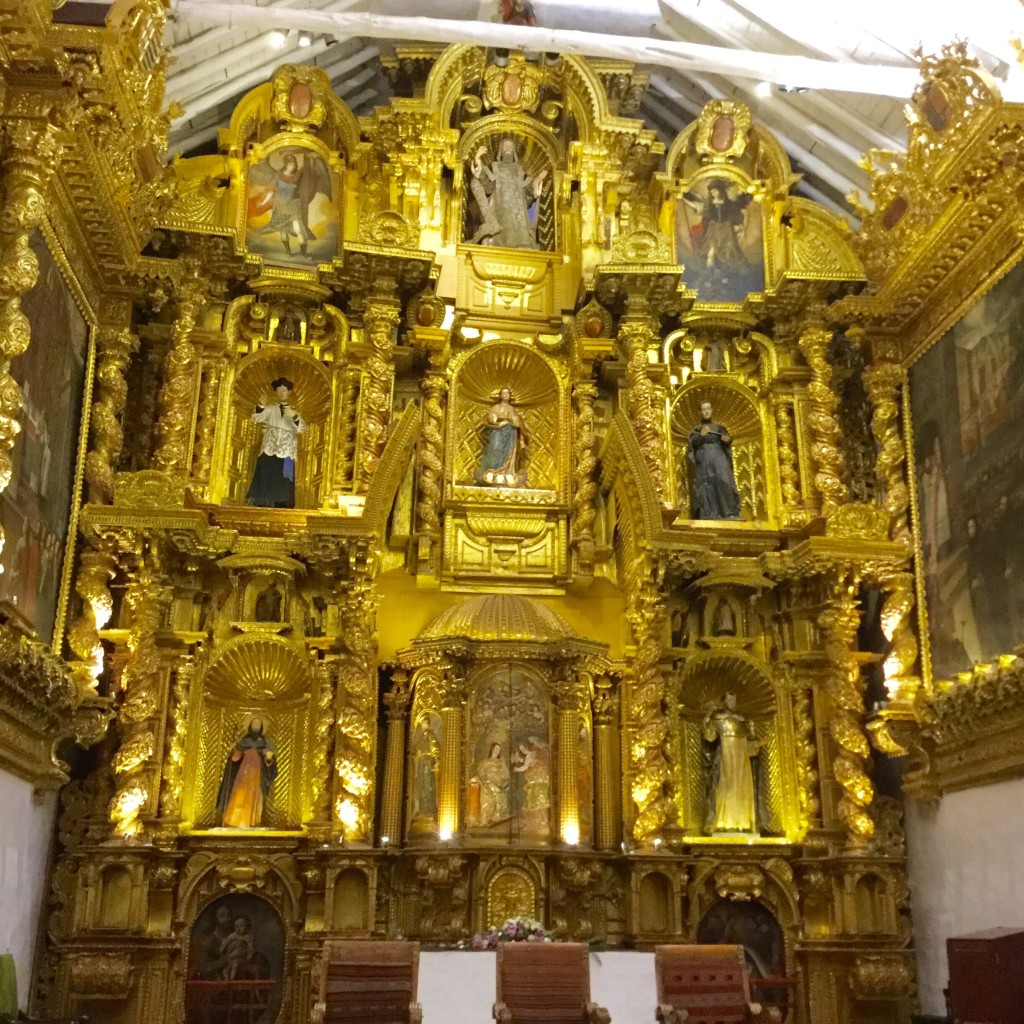 In Tibet, the hotel not only had a view but also felt like a museum with all the art work.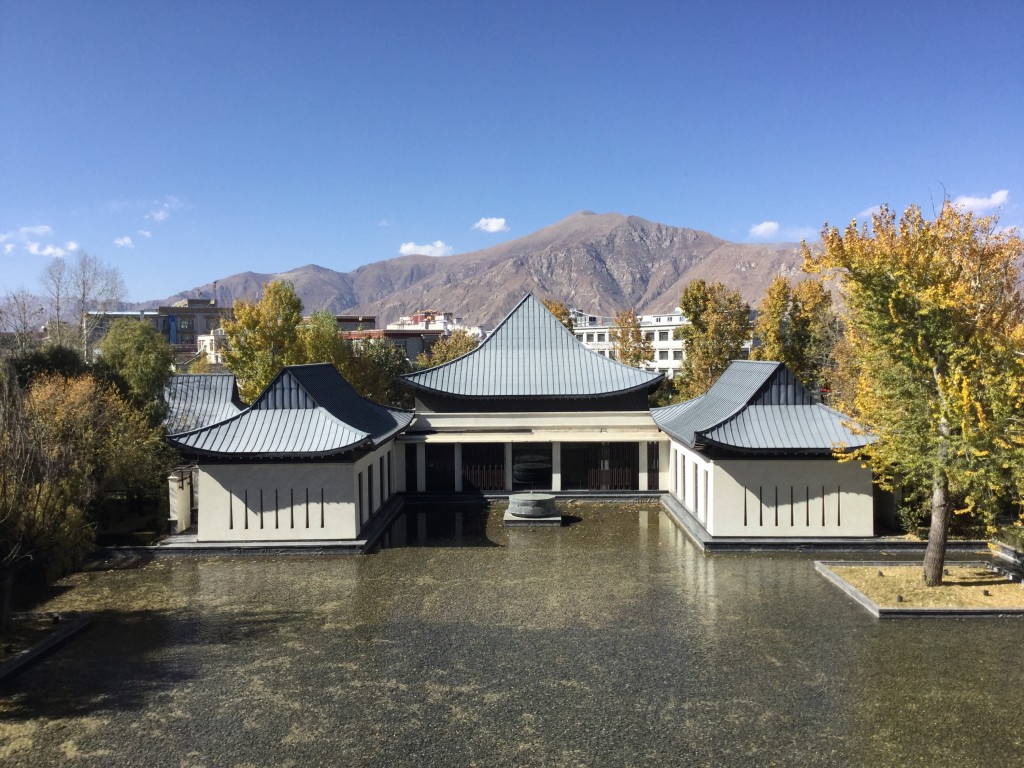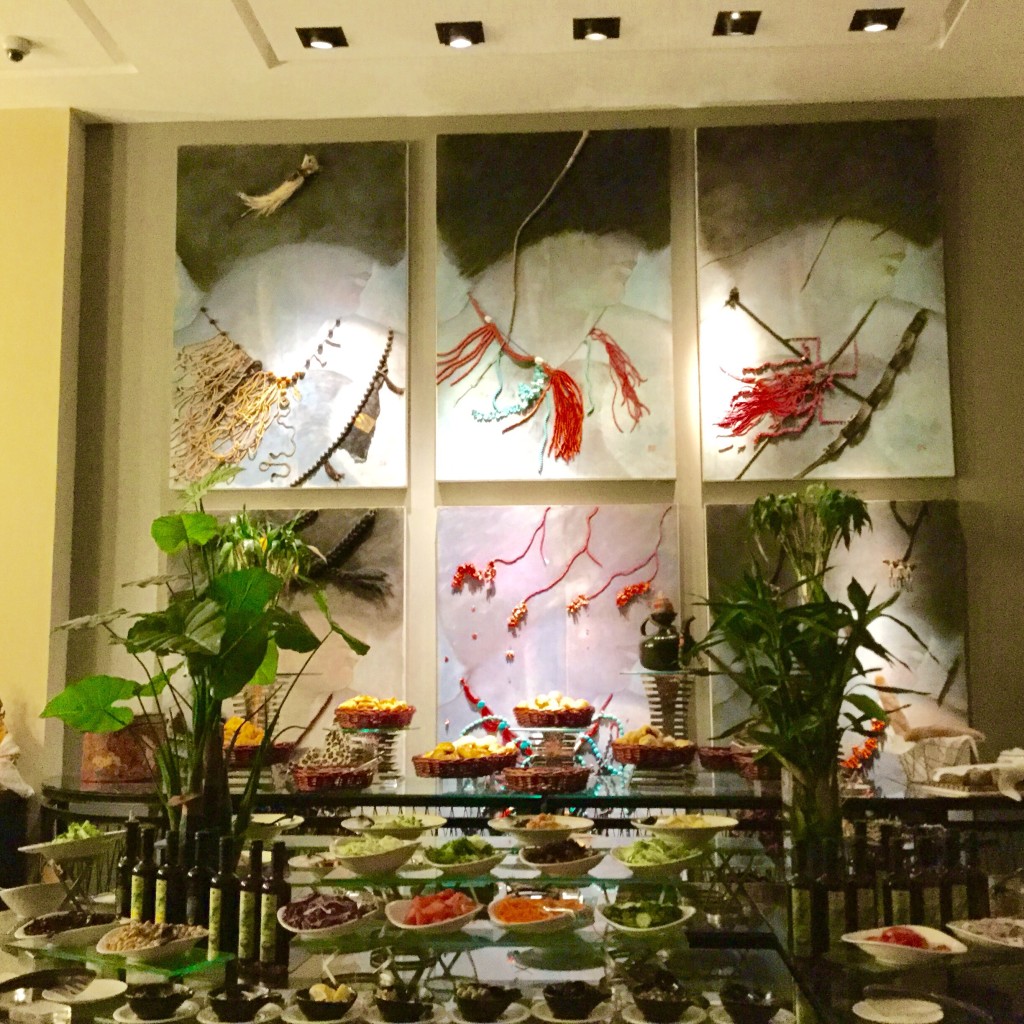 We had welcome receptions at each hotel that included flower leis, torch lit warriors escorting our vehicles, singing receptions and this one from Lhasa, Tibet.
Our last hotel was La Mamounia in Marrakesh where I have stayed before;the hotel where Winston Churchill spent his winters. Some of  us were lucky enough to see his suite. The pictures below show his name in Arabic and a watercolor that he did while spending a winter.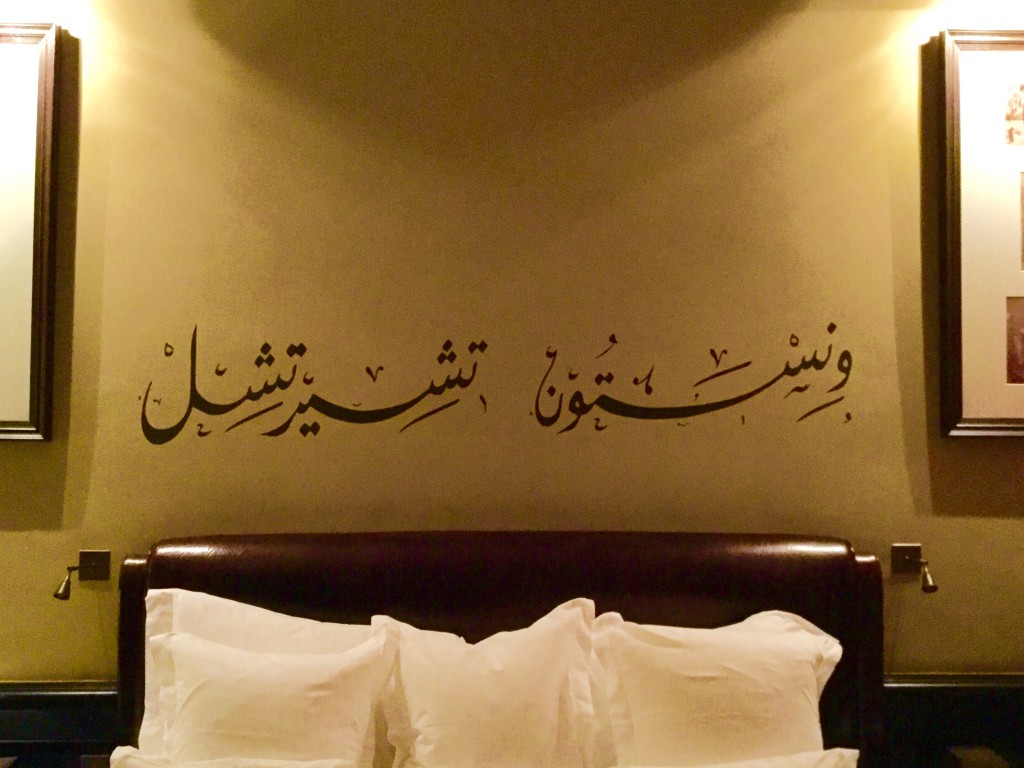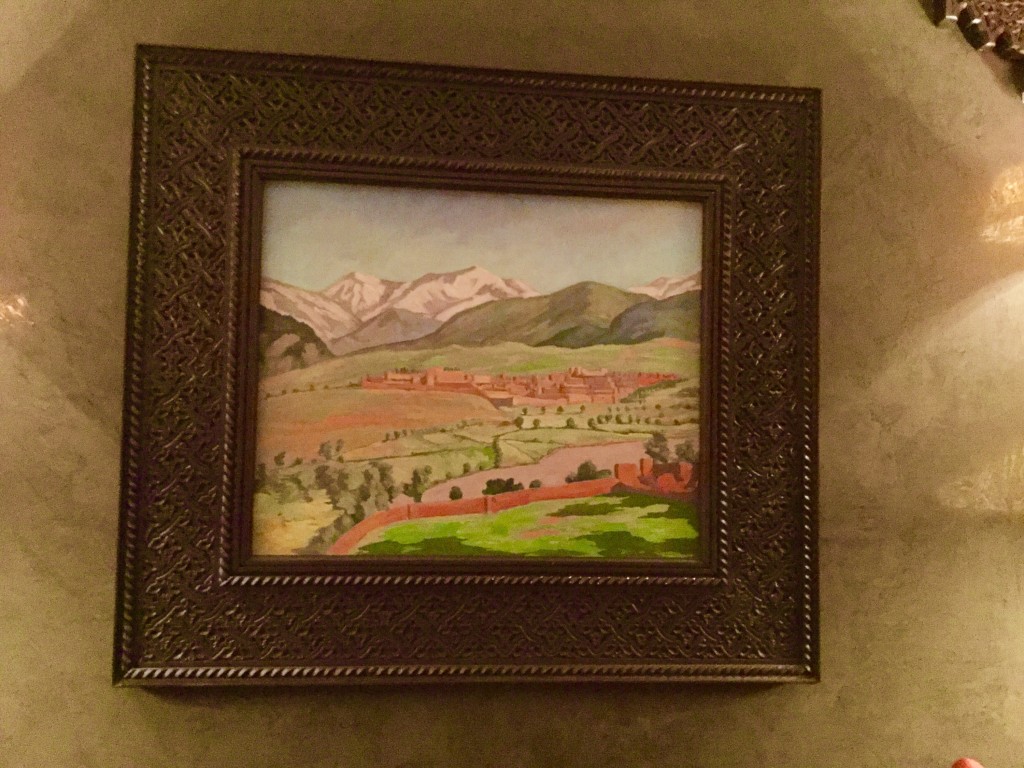 The hotel also had fabulous art.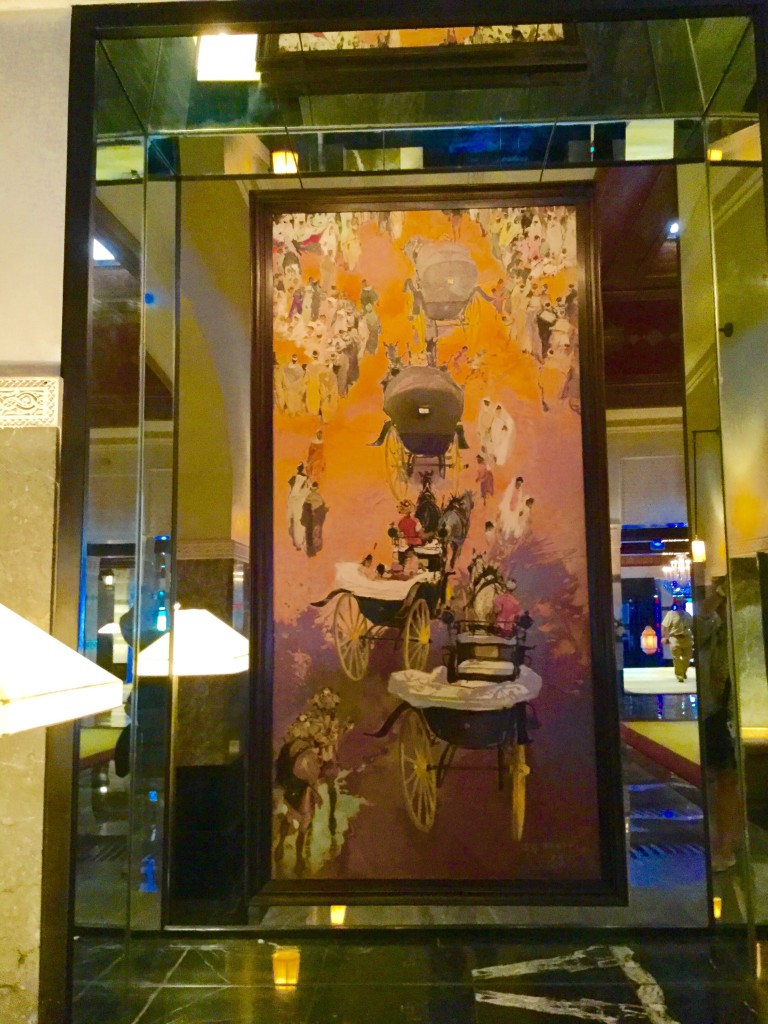 On to the guides… They were all the best with excellent English and great personalities. They willingly shared what daily life was like in their respective countries. Here is a picture of one whose name was Yanguike, pronounce Yankee! The apron means she is married.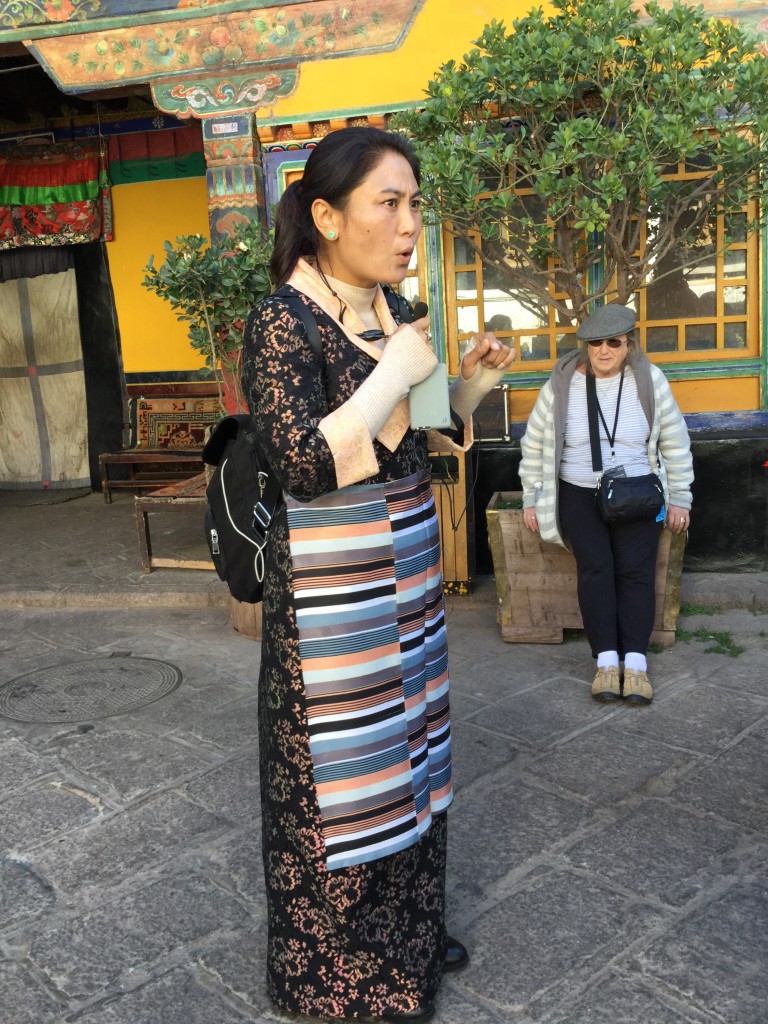 I think I will end now having given you a review of the outstanding features of the trip that complimented the destinations we visited. I will write a Part Two to talk about the 11 countries and 4 continents that we visited in our 24 days.