Not having the luxury of an extra bed to lay out my clothes on, I have had to pile them up on an extra dresser. Here is a picture of the messy pile!  
With my trip only one week away, it is critical that I organize and actually start placing items in the suitcase. We are allowed to travel with one large and one small suitcase that was given to us as a gift from National Geographic. After reading the final trip itinerary that gives times for daily sightseeing and flight schedules, I am more confused than ever. There are 4 destinations where we have to pack in the small suitcase only; there are days when we will wake up early to sightsee and then go directly to the plane; there are days when we leave a cold destination to go to a warm one, etc, etc etc,. So I spent one day trying on and taking off, saying yes and saying no and actually writing out an itinerary for my clothes as I said I might. I did this knowing that I would not want to have to think about what to pack for the next 3 days the night before we fly off to a destination with a small suitcase only. I want to be enjoying the evening entertainment and the ambience of our luxury hotels.  The end result is below. Look at those sensible shoes!!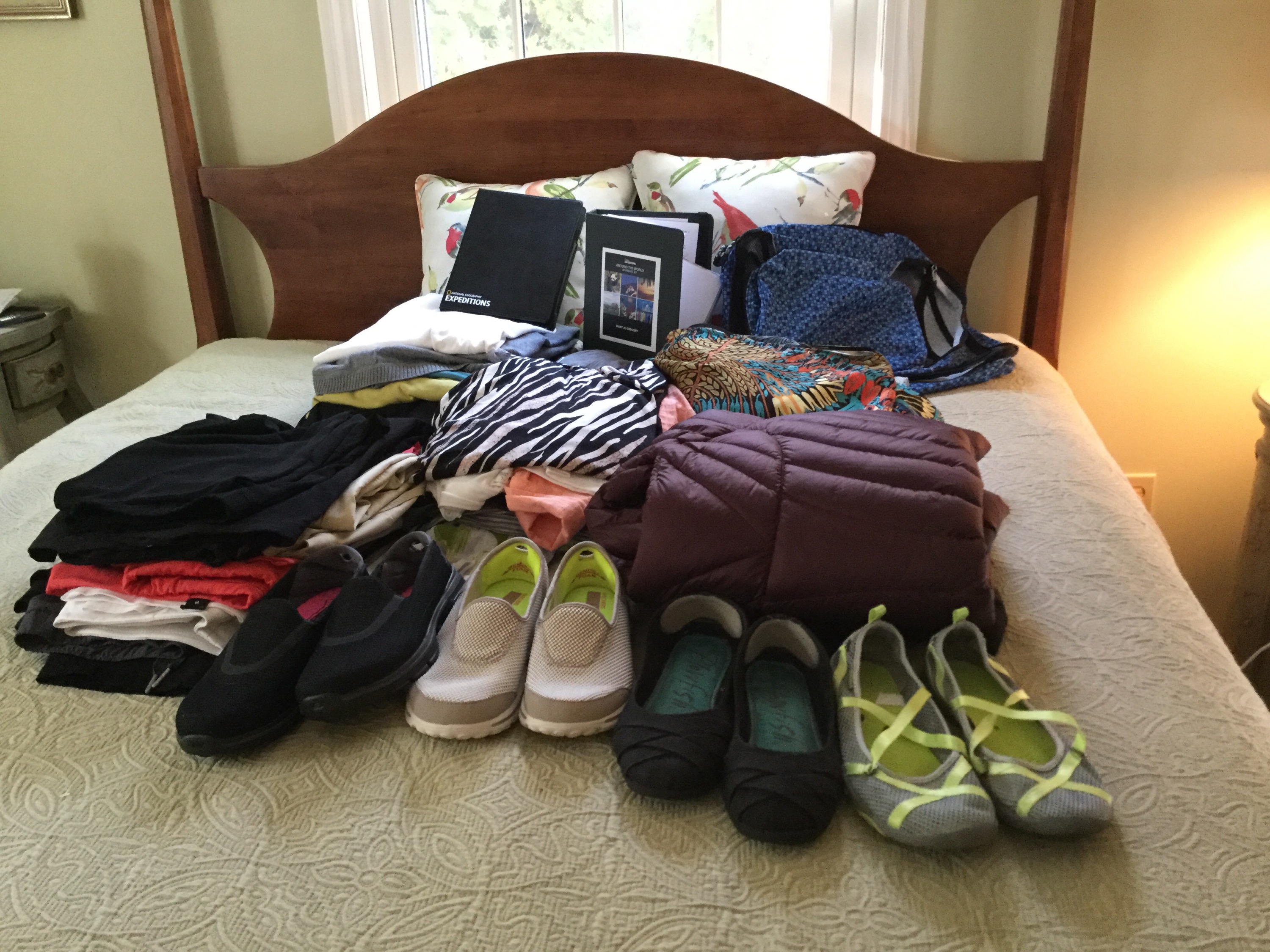 Now I feel organized for this aspect of the trip preparation which has been a journey in itself starting with masses of pre trip information and mandatory requirements. A detailed medical exam was required along with mandatory shots. Fortunately my Yellow Fever vaccination along with others was still good from a prior trip to Africa. Malaria pills are mandatory and altitude and montezuma revenge pills are strongly suggested. I have them all. A dental exam was recommended so I now have my new crown which I had been avoiding for over a year. I am feeling very healthy and hopefully I will stay that way. There is a doctor traveling with us that gives one a sense of securtity if anything should happen.
Next came the visa applications with pages of required information, a valid passport six months beyond our return date( this is standard for all travel) that had at least 10 blank pages accompanied by lots of recent passport photos. You have to plan this part carefully because you will not have a passport to use for at least 2-3 months after sending it to the vise service agency.
Now I will focus on all the cosmetics,  getting my gadgets up and ready; adding an international phone plan to my cell; calling my credit card company; going to the bank to get the recommended $500 in small clean bills and basically fine tuning all the details.
I wil be ready to board the plane and have someone else tell me where to be and what to do!