Let me share with you the amazing destinations that I will experience as I jet around the world with National Geographic. I will give you a brief description now and then hopefully you will join me on my virtual tour.
We begin in Washington, D.C., where we will meet the staff from National Geographic, the expedition experts who will join us and our fellow travelers.Watch Full Movie Online Streaming Online and Download
The next day we are off as we board our specially outfitted Boeing 757 that accommodates 75 travelers in two-by-two VIP-style seats. We have an expedition crew, physician and chef with us to take care of our every whim…the ultimate in luxury as we fly to:
Lima, Cusco and Machu Picchu, Peru
We travel on the Hiram Bingham, our privatel

y chartered train passing through the Sacred Valley of the Inca to Machu Picchu. Abandoned by the Inca, this archaeological treasure was rediscovered by Bingham in 1911. Visitors marvel at the artfully cut stone altars, temples, foundations, staircases and terraced gardens that make this one of the world's most extraordinary archaeological treasures.
Easter Island, Chile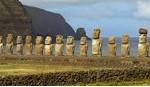 Scattered with mysterious, colossal stone statues called moai, the island is an open-air museum of the ruins of a lost culture. We will learn the hidden stories of the island's wonders with renowned archaeologist Edmundo Edwards, and marvel at the many moai that dot the island's windswept landscape. We'll end this day with a splendid performance by the Kari Kari Rapa Nui dance troupe. I love these local cultural performances.
Apia, Samoa


Samoa is one of the few places where pure Polynesian culture remains essentially intact—tribal rituals and hierarchies are little changed from ancient times. This beautiful island world is well known for its hospitality, traditional ceremonies and distinct communal customs (known as fa'a Samoa, or "the Samoan way"). We'll enjoy a fia fia—a colorful performance of Samoan dance and song.
The Great Barrier Reef, Australia


This is the largest known coral reef in the world and home to an exceptionally rich variety of marine life. We will snorkel among rainbow-colored corals with schools of unicornfish, surgeonfish, bumphead parrot-fish and sea turtles. Who knew at the time when I was down under in 2010 and had to miss this experience that I would be back! It is a real treat for me to be able to snorkel this reef and see the kaleidoscope of underwater color.

Angkor Wat, Cambodia
The magnificent Angkor Wat temple complex is one of humankind's greatest architectural triumphs, with its massive towers, carved murals, colonnades and courtyards that exemplify classic Khmer architecture. At Angkor Thom, we'll explore the Bayon Temple and the Terrace of the Elephants. A cruise follows to nearby floating villages on Tonle Sap Lake. In the evening, we'll enjoy a classical Apsara dance performance during dinner.
Chengdu, China


We have a one-night stay in Chengdu to visit the Panda Breeding and Research Center before flying to Lhasa, Tibet. I have been here before and I look forward to seeing these adorable and lovable panda bears again. Do you think he will remember me?

Lhasa, Tibet
Lhasa, Tibet's capital, is located on one of the world's highest plateaus. Once a "forbidden city," this Himalayan center of Buddhist pilgrimage, with the spectacular Potala Palace dominating its skyline, is a trip highlight for me. I can't wait to visit the palace— with its hundreds of rooms, lavish decor and labyrinthine corridors— which was once the winter residence of the Dalai Lama. I saw the Dalai Lama in Boston and will have to share my story with my fellow travelers. If you remember, ask me about it. While you would think it was a reverent experience, it was really quite funny.
The Taj Mahal, India


Back-to-back trip highlights for me. A masterpiece of the Mogul empire, the Taj Mahal monument, built in the 17th century by Shah Jahan as a tribute to his wife, Mumtaz Mahal, soars majestically above the banks of the Yamuna River. I will definitely be joining the National Geographic photographer to capture images of the Taj Mahal at sunrise.

Ngorongoro Crater, Tanzania
This is another repeat for me but a destination I am glad to be revisiting. My first trip to Tanzania was a magical experience for all of us in the group that I was escorting. Ask me about singing in Swahili in the lobby of our lodge much to the delight of all the locals… Jambo, Jambo Bwana, Habari Gani, etc., etc.
The Lost City of Petra, Jordan

Situated between the Red Sea and the Dead Sea, Petra was settled by the enigmatic Nabataean people in 312 B.C. and became an important crossroads between Arabia, Egypt and the Levant. Half-built, half-carved into rose-red sandstone cliffs, Petra is undoubtedly one of the world's most impressive architectural achievements. We'll step back in time 2,000 years as we visit this ancient city, and learn why these enigmatic people built their capital in such an inaccessible spot. On our last evening here, we will gather for a festive Bedouin dinner.

Marrakech, Morocco
Our last stop is Marrakech, where we will explore this fabled city, located in an oasis of palm and olive groves, and steeped in ancient Berber tradition. We'll see the Koutoubia Mosque, Ben Youssef Madrasa and the grand Bahia Palace and then have time to wander through the medina, a jumble of colorful souks, and stroll the Djemaa el Fna, a lively square where snake charmers, acrobats and magicians enchant the passersby. Our farewell banquet will have traditional entertainment as we bid farewell to our fellow travelers who I am sure will have become fast friends by now.
Washington, D.C.
We leave Marrakech and fly back to Washington to take our connecting flights back to reality. I am sure I will be exhausted but oh so exhilarated.
After completing these brief descriptions, I am filled with such incredible anticipation. Here is the bonus. National Geographic gives each passenger an iPad that is preloaded with detailed information about our destinations as well as many entertainment options. It is ours to keep after the trip. Now that will be a travel album to beat all travel albums!