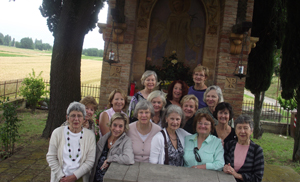 I spent last night reminiscing over dinner about a trip to Umbria, Italy with 2 of the 15 women that I escorted last June.
The group spent 8 nights in a small family run hotel located off the main square of Assisi.
We all had rooms that presented us with views of the town and the magnificent countryside out of our shuttered windows.  The bonus was a second floor terrace where we had a gathering one evening enjoying our wine, cheese and bread. Our guide, American born, but living in Italy with her Italian husband since 1975.  Anne Robichaud www.anniesitaly.com shared her personal love of the "hidden gem" of Italy on our day trips to the classic hill towns of the area. She soon became a friend to all of us.
So our dinner lat night was filled with laughter as we reminisced about the truly warm and loving trip we had experienced together. Margaret finally shared her initial hesitancy about traveling with just women thinking that they may not embrace her.  As it turned out, that was never a concern. We all instantly bonded the first night when we shared something about ourselves that no one else would know.  The open and honest replies brought laughter, admiration and appreciation for our life experiences. We never stopped talking for the rest of the trip.
Now it is important for you to know that we ranged in age from 59 to 85, some married, some not!  A highlight for us was watching our 85 year old become "30 something" during this seasoned adventure. What a role model. You would never have known how old she was if she hadn't admitted to us that she was celebrating her 85th birthday. Talk about a dynamic senior women.
What was exciting for me about last night was the conversation that the three of us had where we could instantly place ourselves back in the trip with our memories. We laughed about being totally mesmerized by a smooth good looking Italian who gave us a wine tasting. He was so engaging that we came home with very expensive bottles of wine. We all agreed that while we spent too much money we would never trade in that memory. However, we are saving our bottles for special occasions.
It is important for me to tell you that I did not know these women prior to this trip.
They are now friends with whom I can share my joys and concerns and know that my thoughts will be accepted and honored for what they are.
The evening was very special and one that I will cherish. There will definitely be more future trips together.