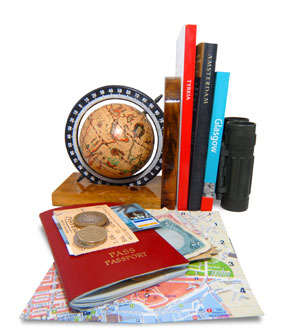 1. PLAN YOUR WARDROBE
I usually start 1 month prior to plan the clothes that I will bring with me. This is fun for me and I spend time driving in the car thinking about different outfits and ways to mix and match. I always purchase one or two new items to make it special.  I then review the daily itinerary and play around with which outfit to wear each daytime and evening. No I am not a fanatic and I don't stick to this plan. It just helps me to bring the right clothes and not so many of them. You have heard the theory: pack your suitcase and then take out half of it. That doesn't work for me and to be honest I am usually adding a last minute item the morning of departure! Hey, what can I say, I like clothes, jewelry and looking nice.
2. LEARN SOME COMMON FOREIGN LANGUAGE PHRASES
It is very important for me to know how to say the following:
I'm sorry; I don't speak French, Spanish, Italian, whatever the language is for your destination
For Chile and Argentina I will say   Lo siento, no hablo espanol
Then I will  say,  Do you speak English:   Hablas Ingles
Please note I am honoring them by identifying that I do not speak their language first rather than the typical rudeness and arrogance of spouting out a request for them to speak my language.  My way makes for friendly communication.
3. USE THE PLANE RIDE TO YOUR ADVANTAGE
We all know that traveling is not as much fun as it used to be.  However, I try to fly with the right attitude and use it as a transition time to prepare myself to enter my destination ready to begin my cultural immersion.  I now always travel with a Bose headset to allow me to enter into my own zone of thoughts. I release the concerns of home and focus on the anticipation of the trip ahead of me.  I travel with 2 types of books: one for pure entertainment and one for personal or professional growth. On very long trips I have traveled with a First Class Sleeper Seat Cushion. It rescued me on a 17 hour plane ride to China in an economy class seat.
4. IMPORTANT INGREDIENTS FOR A SUCCESSFUL TRIP…  PACK
A CUP OF COMPROMISE
A DASH OF DARING
 A SPRINKLE OF SPONTANEITY
A PINCH OF PATIENCE
AND YOUR SENSE OF HUMOR!
These are only a few hints… I'm sure you have your own hints so do share them with us on our Facebook fan page.
SAFE TRAVELS TO ALL